Microsoft recently warned the channel of even more global price hikes for its cloud products. 
In an announcement earlier this week, the vendor explained the latest rises mean customers will have 'consistent pricing reflecting the exchange rate of the local currency to the US dollar (USD)'. 
Starting April 1, 2023, pricing for Microsoft Cloud products will be adjusted by nine per cent GBP, 11 per cent DKK, EUR and NOK, and 15 per cent SEK.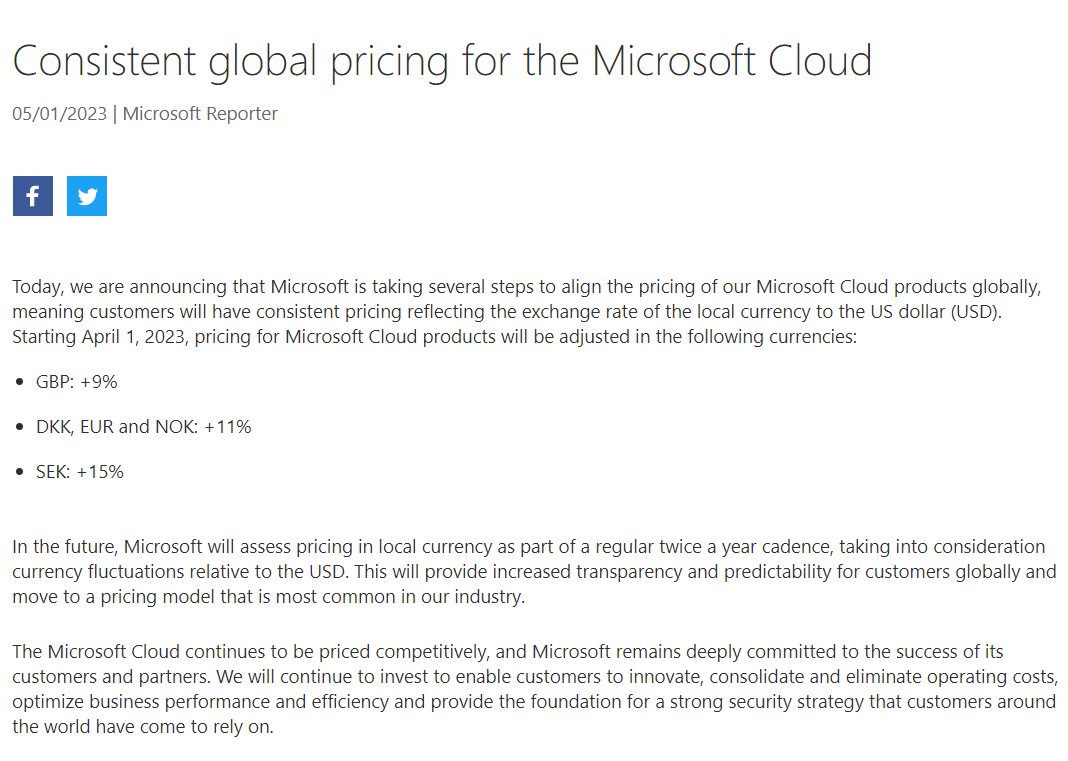 "In the future, Microsoft will assess pricing in local currency as part of a regular twice a year cadence, taking into consideration currency fluctuations relative to the USD," the company said in a statement.
"This will provide increased transparency and predictability for customers globally and move to a pricing model that is most common in our industry.
"The Microsoft Cloud continues to be priced competitively, and Microsoft remains deeply committed to the success of its customers and partners. 
"We will continue to invest to enable customers to innovate, consolidate and eliminate operating costs, optimise business performance and efficiency and provide the foundation for a strong security strategy that customers around the world have come to rely on."
What do the increases mean for Microsoft channel partners?
The news has been met with mixed reactions from the channel, with some acknowledging they are more of an alignment on the exchange rate rather than price increases. 
"Everybody worried about another price increase from Microsoft can rest easy. This is not a further price rise, it simply an 'adjustment to pricing strategy' that brings all other countries in line with the dollar," said Craig Pearson, director of sales and marketing at IT services and consulting group Your IT Department on LinkedIn.
"I think Microsoft share prices will see big gains this year. The price 'adjustments' will increase profitability and the partnership with Chat GPT gives them a real chance of impacting Google's market share in search."
Canalys senior analyst Robin Ody agreed the price hikes were in "anticipation of a difficult year ahead" and a way to reassure investors it is keeping track with FX-related volatility.
He added they are also a good way to drive partners towards updating a lot of customers in one go, to lock in the old price before the April deadline. 
However, Ody recognised the controversial changes Microsoft has made to its partner community over the past few years. 
"For channel partners, this is part of an ongoing transition in the Microsoft relationship which is causing a lot of upset," he said. 
"This includes the shift to NCE and the incoming points system in the new Cloud Partner Programme. 
"The communication and management of all these things has not been very well handled, though given the size of Microsoft's channel any major changes in its program and structure were always going to be tough.
"It is perhaps just another indicator for channel partners they cannot, and should not, rely on the benefits and incentives vendors offer in their programs for their profitability. 
"Partners see less and less financial value in partner programmes as they exist today, and there is a major shift in channel programmes overall in the IT industry. 
"Vendors should at least provide access to support and enablement, and improve their legacy tools and portals, to help their partners become more valuable to the end-customer."
Source link