'Fame makes you paranoid': Michael Cera on Barbie, drunk fans – and not owning a smartphone | Michael Cera
[ad_1]
Some sympathy, please, for Allan, created in 1964 as a best friend to Barbie's boyfriend, Ken, but discontinued the following year because he was so underwhelming. The new and much-anticipated Barbie film resurrects Allan, along with Midge, the girlfriend who later became his wife. Allan made a couple of comebacks over the decades, but in the real-life history of the Barbie doll – 58m of which are still sold each year – he remains a minor character. "Somewhat of a marginalised figure," says Michael Cera, who plays him in the film. "It turned out people didn't need to go deeper into Ken's world."
An Allan doll, which the actor bought on eBay, sat in the hair and makeup room, as inspiration and "a sort of mascot, until after shooting, when I took him home", says Cera. "I definitely wanted to have my own Allan." He has a broken sandal, says Cera, with a touch of sadness, "but it doesn't matter – he's like 60 years old or something".
Cera jumped at the chance to be in the film. The script was fun, he says, and he loved the thought of working with Barbie and Ken – Margot Robbie and Ryan Gosling, a friend and fellow Canadian – and the indie director Greta Gerwig. "I was desperate to be a part of it," he says, speaking over Zoom from his home in New York, before the Hollywood actors' strike. It is the most obviously commercial film Cera has made since the 2007 teen-virgin comedy Superbad.
Still, despite the hype and its big budget, Barbie appears to have some arthouse sensibilities. Gerwig, who co-wrote as well as directed, had "her stamp all over every single part of it", Cera says. He loved going on to the sets – Barbieland on a massive scale. "I would stand there and marvel, and never got tired of looking around and finding new little details. It was one of the most stunning things I've ever seen."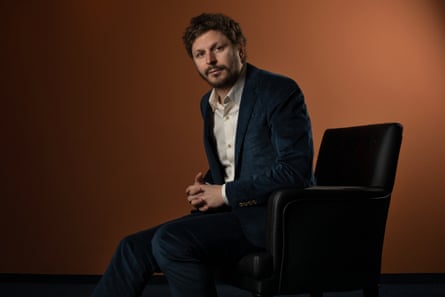 The story is that Barbie leaves Barbieland and enters the Real World. Cera's other recent role, in the first episode of the new Black Mirror anthology series, also plays with the idea of the multiverse – in it, he plays a version of himself, in a world in which celebrities digitally license their faces for a computer-generated TV show. Cera has played himself several times, including in a YouTube sketch in which he is sacked from the film Knocked Up and the apocalypse comedy film This Is the End, and even a piece he wrote for the New Yorker. "I think I'm over it now," he says with a laugh, "but it can be fun." What appealed to him? He seems quiet and thoughtful – at best ambivalent about fame, at worst hostile. Maybe it was a way of putting distance between his real self and his celebrity self? But no, he says, it is just that the idea always seemed amusing.
Maybe it feels more pertinent, now we are in the era of deepfakes and on the precipice of uncontrolled artificial intelligence (AI). Cera says he asked an AI service recently if we were living in a simulation and its reply was: 'It's totally likely that you are.'" The other thing that that Black Mirror episode said is that culture is becoming targeted at what we think we want to consume. Cera says he prefers to stumble across stuff, or hear from friends, not an algorithm. "I think that things are a little too optimised," he says. "Even with parenting" – he has a young son – "you have a million questions when you have a new baby and you look online, and there's always some highly optimised answer about whatever problem you're having." He prefers the idea of muddling through, working it out for himself "and not trying to do everything perfectly, and have everything become this sort of homogenised version. I kind of miss when things were a little sloppier."
This goes back to what he had been saying earlier about the way Gerwig worked on Barbie – sequences that could have been done by animation or CGI were created with moving sets and puppetry, "a throwback to that classic way of doing things, those special effects that are sort of a lost art, but there are still people that are brilliant at it". It's inevitable that computers are taking over, "but it definitely makes me appreciate things that are made by human beings a little more."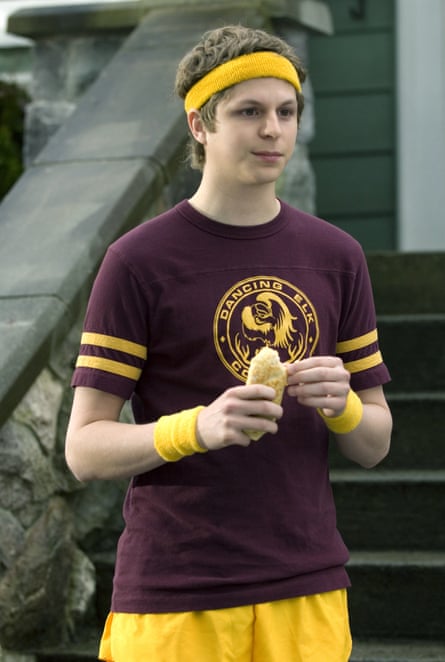 Cera is 35 and must be one of the few millennials not to own a smartphone. I fire questions at him about how he survives. Google Maps? "That's the thing everybody always asks. I just figure it out ahead of time." Sometimes he draws a map. Social media? He doesn't do it. Endless photos? He bought himself a camera while his wife was pregnant and taught himself how to use it, "and now I love that as a hobby". What about when he has a spare 30 seconds and desperately needs to save himself from agonising boredom? "I don't know. Sometimes I'll just be bored." He laughs, as if it's no big deal. It gives him space to process things, he says. Checking email? He has a computer at home for that, "and I waste a lot of time playing chess. It's completely got its tentacles in my brain, but at least I leave it at home."
Does he look around at the rest of us, staring into our phones and feel sorry for us? He isn't judgmental, but says: "I feel sorry for my son, I feel sorry for the world. I think it's getting very lonely." Sometimes he will look around the subway and "do a head count of how many people are looking at their phones and it makes me feel lonely. Even being with friends or with family, you're with someone you love and haven't seen in a while, and they're with their phone. It's like they left the room. I think it bums a lot of people out, honestly. I feel the loneliness creeping in." I wouldn't know how to survive, I say. Cera looks wise. "That's the triumph of the Apple corporation. It has done a good job of making people feel they can't exist without its product."
Cera grew up in a suburb of Toronto, with an older and younger sister and "a normal amount of Barbies in the house – a baseline of probably five". He doesn't have specific memories of playing with them, but says: "We played with everything that was around. They were just part of the texture of our life – everything is just this big soup of plastic on the floor."
As a child, he started doing weekend drama classes, which he found fun and "something I really felt good doing, because I was pretty inept at a lot of other things". Encouraged by his teachers, he started getting jobs in adverts, then was in a children's show, but it felt casual, rather than a career path. There was never any pressure, he says, and he maintained a normal life at school with his friends, even if the jobs started getting bigger, such as a part in George Clooney's film Confessions of a Dangerous Mind.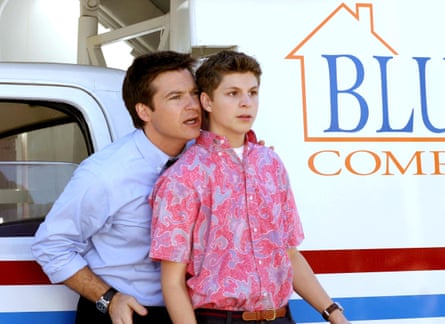 Cera was about 14 when he got a part in the TV comedy Arrested Development, playing George Michael Bluth, the son of the heir-apparent (played by Jason Bateman) to a dysfunctional family corporation. He and his mother would spend half the year in the US, "and that was destabilising in a way, because we would be so far away from home, and away from school and my friends, and fall out of touch with everything. But I also loved it because I was so excited to be on the show. I was just thrilled by the people that I was getting to be around – that's always been one of the things I've loved most." The show was a slow-burn success, so "I always felt like we were just hanging by a thread and we always feared that we wouldn't get to keep making it." There was no danger Cera would become arrogant, even if that were in his nature.
When he did find sudden fame in 2007, after Superbad and Juno, in which he played the boyfriend of a pregnant teen, he was 19 and it wasn't a particularly enjoyable experience. "That was sort of overwhelming," he says. "I didn't know how to handle walking down the street. Fame makes you very uncomfortable in your own skin, and makes you paranoid and weird. There were lots of great things about it, and I met a lot of amazing people, but there's a lot of bad energies, too, ones that I was not equipped to handle."
What does he mean by "bad energies"? "Drunk people would be a classic example," he says. "You know, if people are drunk, and they recognise you, and they're very enthusiastic, but it can be kind of toxic too. When you're a kid, people also feel they can kind of grab you – they're not that respectful of you or your physical space." At 19, he says, "I didn't know how to respectfully establish my own boundaries." The weekend Superbad came out, Cera went to a bar with friends "and it was a mistake. It was like a burning feeling the whole time, just like everybody was so aware of me."
He is not complaining about it, more acknowledging that bigger fame was not necessarily right for him. Did he make a conscious effort to step away from more commercial projects? "A little bit," he says. "There was a point where I wanted to stop taking jobs that would make me more famous." Around this time, he was asked to host Saturday Night Live and turned it down, to the dismay of his agents. "I was kind of having a bit of a crisis … I was really not enjoying the level of heat."
At one point, he says, "I really didn't know if I was going to keep being an actor." But he had already signed up for Edgar Wright's 2010 film Scott Pilgrim vs The World, which essentially pulled him through. "I was already committed to it, and went and did it, and obviously feel so grateful that that happened." He did a Kenneth Lonergan play, two films in Chile with the Chilean film-maker Sebastián Silva, co-created a YouTube comedy channel where he posted shorts he'd written or directed, and joined an indie band. That period, he says, was about trying to work out what he wanted. "I knew that it wasn't just like constantly fanning the flames to get bigger and bigger. I knew that wasn't really my goal. I think I wanted to be a working actor who can enjoy my day-to-day life, and the world that I've created for myself. I think that was the overall thing I was trying to figure out."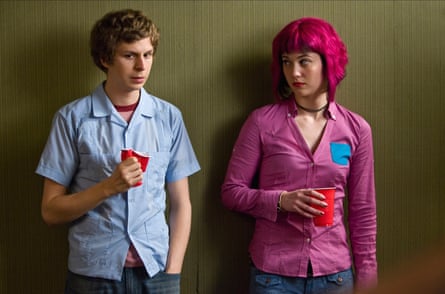 He seems to have succeeded. Cera has worked steadily, in lots of interesting projects, and with many of his heroes, including David Lynch and Harold Ramis; earlier, on Arrested Development, he was thrilled to work with David Cross, whose comedy Mr Show was a big part of his childhood. "I'm like the biggest fan of people," he says. He loved the British comedy Peep Show, and has been working on a project with its creators, Jesse Armstrong and Sam Bain, which he hopes will get made. He is also trying to raise finance for a film he has written with two friends and hopes to direct.
That other side, what he calls his "day-to-day life", also seems fulfilling. He and his wife, Nadine, met in a bar in Paris, where she was studying and he was promoting Arrested Development. "We trip out about that all the time," he says. "It's completely unlikely that we would ever meet." She didn't know who Cera was. "She thought I was Swedish, until we spoke. I didn't know if she would speak English, and if we would even have a chance to talk, and it was very lucky that she did because we wouldn't have a son, we wouldn't have a relationship."
Their son is nearly two and starting to talk. "Sometimes I think of myself as like an old man remembering this time, like this was the greatest time ever. I already feel the nostalgia that I'm going to feel," says Cera, somewhat mournfully, then smiles. "It's a way to shock yourself into being present and appreciating it, or something." He talks with overwhelming gratitude that he has been able to create a career he loves, but also to build a life alongside it. Take it from Allan – one day you're the hot new doll, the next you're discontinued. It's the real world that matters.
[ad_2]
Source link