Wiwynn shares rise more than 5%, bucking trend
[ad_1]
'CHALLENGING YEAR':

The firm's chief financial officer said that global inflation and interest rate hikes this year have not been conducive to enterprise purchases
By Chen Cheng-hui / Staff reporter
Shares of cloud computing equipment supplier Wiwynn Corp (緯穎科技) yesterday rose more than 5 percent, bucking the broader market's downturn as investors remain confident about the company's business prospects.
Wiwynn, which makes cloud-based servers and hyperscale data centers, on Monday reported earnings per share (EPS) of NT$14.96 for the second quarter, a fall of 30.67 percent from the previous quarter and down 26.55 percent from a year earlier.
However, the company's EPS for the first half of the year reached NT$33.82, higher than the NT$33.79 it posed for the same period last year. It was also its best performance for the period in the company's history.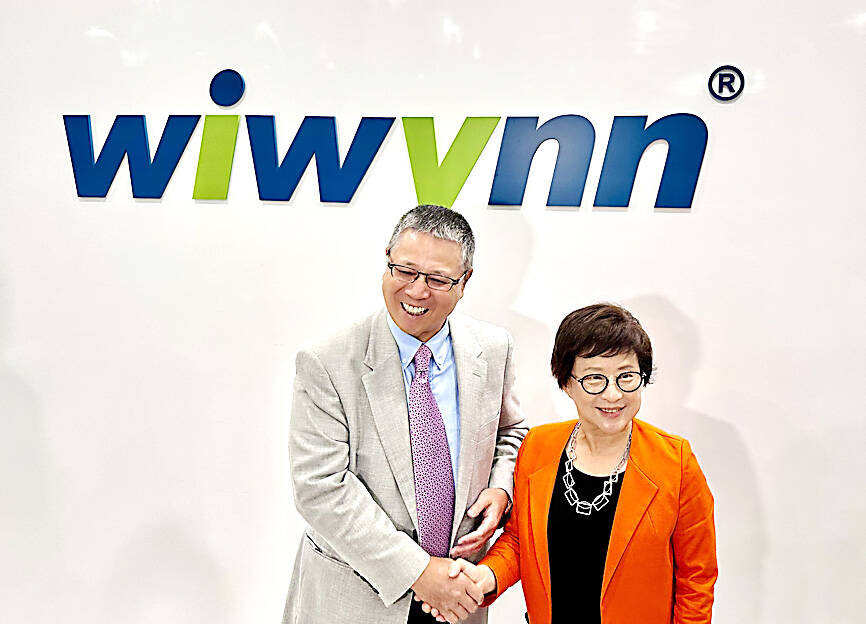 Photo: Fang Wei-chieh, Taipei Times
Analysts surveyed by financial data firm FactSet expect Wiwynn to report EPS of NT$66.14 to NT$82.06 for this year, with a median estimate of NT$71.76.
Wiwynn shares closed up 5.41 percent, while the TAIEX retreated 0.7 percent.
Its server clients are mostly large data center operators and it is also an artificial intelligence (AI) server system integrator for US cloud service providers (CSPs) such as Meta Platforms Inc, Microsoft Corp and Amazon.com Inc, competing mainly with Quanta Computer Inc (廣達), analysts have said.
"This year is challenging in light of global inflation and interest rate hikes, which are factors not conducive to enterprise purchases," Wiwynn chief financial officer Harry Chen (陳昌偉) told an online investors' conference yesterday.
"CSPs last year showed intentions to adjust downward their capital expenditures and they are gradually implementing their plans this year," he added.
Chen said that prospects for next year depend on inflation and the supply-demand balance in the second half of this year.
However, the company would have greater exposure to AI servers next year, after shipping limited, tailor-made AI models this year, he added.
Regarding market speculation that the company might gain orders from the Middle East for servers using immersion cooling technology, Chen declined to comment, saying only that it hopes to optimize its customer structure and would engage with clients whenever opportunities emerge.
Yuanta Securities Investment Consulting Co (元大投顧) forecast that Wiwynn would ship 2,000 AI servers this year, increasing to 25,000 units next year and 46,000 units in 2025.
As the average selling price of AI servers is much higher than for traditional servers, they would contribute significantly to Wiwynn's revenue in the next two years, Yuanta Securities Investment Consulting said in a note.
Consolidated revenue in the April-to-June quarter fell 25 percent from a year earlier to NT$56.31 billion (US$1.77 billion), while net profit fell 26.6 percent to NT$2.62 billion from NT$3.56 billion a year earlier, Wiwynn reported on Monday.
Gross margin last quarter increased 0.5 percentage points to 8.8 percent, while operating margin grew 0.1 percentage points to 6.2 percent due to better cost controls, the company said.
In the first half of the year, cumulative revenue grew 2.8 percent year-on-year to NT$130.53 billion and net profit rose 0.1 percent to NT$5.91 billion, with gross margin and operating margin improving to 8.5 percent and 6.1 percent respectively, it said.
Comments will be moderated. Keep comments relevant to the article. Remarks containing abusive and obscene language, personal attacks of any kind or promotion will be removed and the user banned. Final decision will be at the discretion of the Taipei Times.
[ad_2]
Source link
Tags:
Cloud Computing
,
Don Lichterman
,
SCA Sunset
,
Sunset Host Co